A gentle start to the quarter…the Virtual London Marathon 😊  Having spent most of the year training for hills, with the longest distance a half marathon, why shouldn't I be able to complete the 26.2 miles needed.  Well, it turns out that climbing up mountains with long days on feet does allow you to get round the distance. Not running though.  I started off with a mix of running and walking, then mainly just walking by the end of it. I passed a number of other people doing the same event, which was nice, high fives shared. Being mainly self-supported, I was carrying a pack with water, food and waterproofs. More weight than you would expect for a marathon, but it was part of the training.  Came back via one sister's where I got a cup of tea and some haribo, the sugar being exactly what I needed. Then met with other sister who did the final five miles with me, ending up walking around the park a few times. That was at least what the app told me – Steve Cram chiming in with congratulations as the mileage ticked hit 26.2. Unfortunately my Garmin was only at 25.3, so that could not stand. I finished off the last bit with a walk to the pub, then a bit more outside the house.
Then I headed to Nepal – and full details of the trip can be found in Part 1 – getting to the start, Part 2 – up to Italian Base Camp and Part 3 – over the French Col and home
November was fairly quiet, catching up on work and things. At the end of the month, I headed back to the Brecons for more walking. The weather was not good, so stayed lower but got a couple of great walks in the bag.
December was quiet at the start, but then sped up. The house in Kinver was so nearly there, after we tried to complete in November, it finally went through on 9th Dec. Luckily I didn't have to move in straight away, as the flat in Clent was still mine for a few months. But I did end up camping there a bit before moving just before Christmas. It's still not tidied up yet though.
I had a couple of London trips, one for the team Xmas lunch, one for business meetings. With the rail strikes, I missed most of the Xmas lunch as the coach was very delayed, both coming and going. Not trying that again!
Christmas was excellent with the family, with the usual dinner at Mom's. There was a Christmas day parkrun and a Boxing day walk with the family.
I headed out to Brecon for my traditional New Year's walking weekend. The weather was terrible, lots of rain and wind, but did manage to get 4 more hills in for the list.  Across the 3 days walks I did 2 Bronze Age hill Forts, a Roman fort, a Roman camp and 2 roman roads.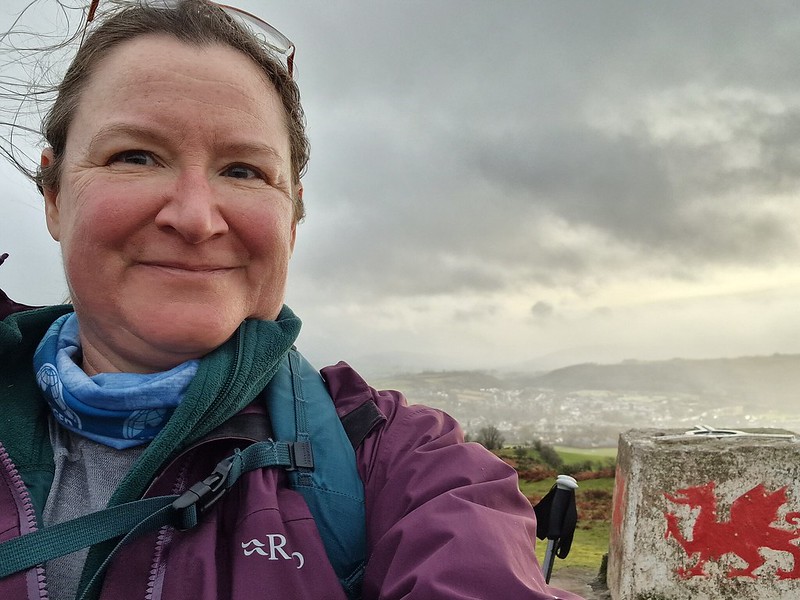 I also captured another cathedral – Brecon. Looking at Flickr, I've done 15 in England and Wales, only another 29 to go 🙂