This is now back…some changes but nothing substantial.
One of the projects I've been working on, at least from a metrics and tracking perspective, is a US campaign for Domino's Pizza: Anything Goes, any large pizza, any topping any crust for $9.99. Supported by a heavy TV promotion, in-store, email, SMS, online advertising, all the usual stuff, it also had an unusual contest and teaser video component.
The concept behind the online promotion is that anything goes for $9.99. So for 5 weeks, starting 1 Jan, Dominos have been auctioning items on eBay for $9.99. From ipods to video cameras to home entertainment systems everything was the one price. It was set up as an Buy it Now auction; to find the items, a clue was posted everyday on the microsite that when solved gave the keywords associated with the auction page and you were told within what time period the items would be posted. There was a lot of commetary about it within the eBay community as well, as this was a new thing for the service to participate in.
There were also 4 big prizes. With each of these, there is an associated set of videos that tell a story that leads up to why the item is being sold. The first one went up 15 Jan, 2 weeks before the campaign was launched, in 3 video channels (YT, metacafe, AOL Uncut). So, meet Mackenzie.
Mackenzie is a sweet (!) 16 year whose father bought her the wrong colour car for her birthday. Looking at her videos, you eventually find out that she gets the car that she wants and she puts her Saab convertible up on ebay to sell it. And it went pretty quickly – see the winner here. A second series set up the sale of a big screen TV and there are 2 more that went up this week, one for a Harley Davidson and one for one last big surprise. (the big surprise was a Lotus car)
So that's the campaign, let's take a look a little closer at Mackenzie. Her behaviour drove a lot of comments, most people condemning her at various levels of politeness (it definitely brought out the worst online attitude in some people). And the views that the series for, especially the first one, were OK but not spectacular. That was until it was 'borrowed' – downloaded from one of the services and reposted. If any of the initial re-posters credited their source, I could not find it, which again indicates an interesting attitude. We found it first on YouTube, then Break, then 4 other sites and saw the views really stack up. Break has by far got the most views that we can count. It may be in many other places that we've not found yet.
The pinnacle has been appearing on the front page of AOL, on their video blog,(where it is the most commented at the moment) making their top viral video and being picked as video of the day. If only we could get the viewing numbers!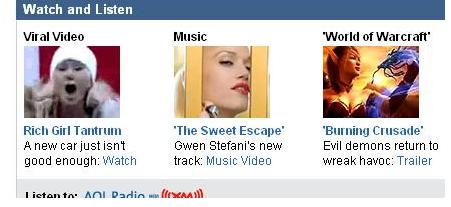 Interestingly, AOL got the video from iFilm. Now, none of these reposts are branded, although the connection is normally made in the comments. But the company is still getting the benefit, being able to talk about the success in press and on TV.
Some lessons from this:
Don't be surprised how long it takes for something to take off. Most views on the videos have taken place after the auctions are complete, items can have a slow burn
Be prepared for the comments. Once it's out on the web, people can say anything. However, comments were closed on the video with the winner in it – there's a difference between a character and a prize winner.
Don't expect success with everything, even if the creative team is the same. Mackenzie did well, Rich man not so much. It'll be a few weeks before we now the results of the last 2 sets.
Don't be surprised when things are taken and not credited to you. Work out how to make that a success as well
After that, I'm back to recording video views.