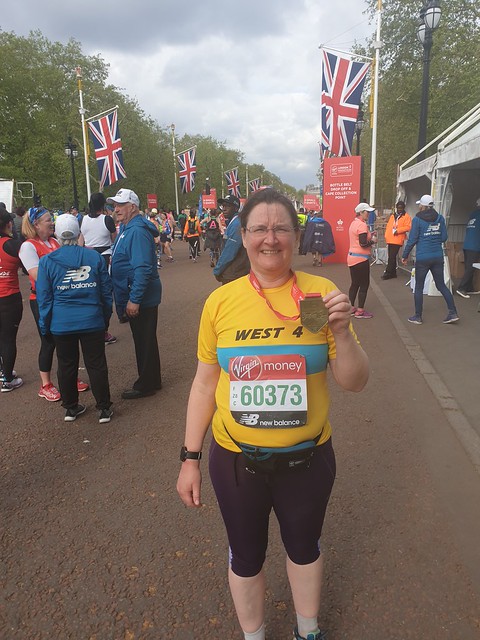 After a few years failing at the public ballot and instead marshalling on the course, this year I got into the London Marathon through the marshalls ballot – a number of places are offered to the groups that volunteer. As the decisions were not known until January, it's not for everyone, but as I was training for Manchester, I thought it would be great to do another race 3 weeks later.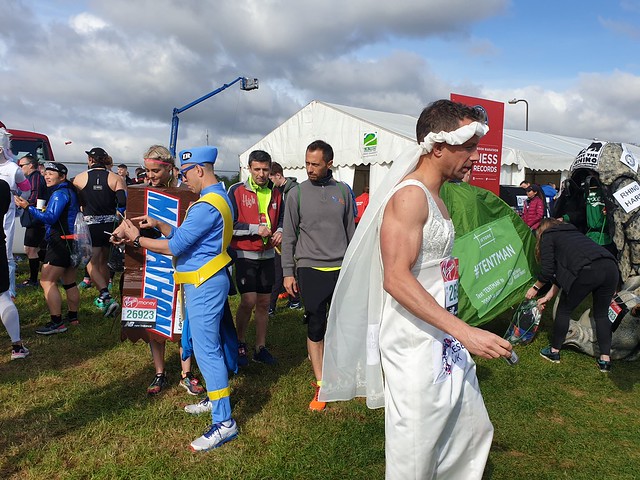 As I was in the last pen at my start, there was no need to get their too early; the 7:47 train meant I got there just after 9, plenty of time until my planned start of 10:48. I started from the Green start, which is the middle one – so you definitely needed to be there in time to cross the course before the running started. This start was where all the Guinness World Record attempts were starting from, so there were some impressive costumes on display. Looking at these, along with watching the screens meant that time ticked along nicely. I was cosy in my trial cape – something the marathon was doing in an attempt to cut down on plastic waste. Before I knew it, it was time for a last minute loo visit (nobody queuing at that point) and time to get into the pen.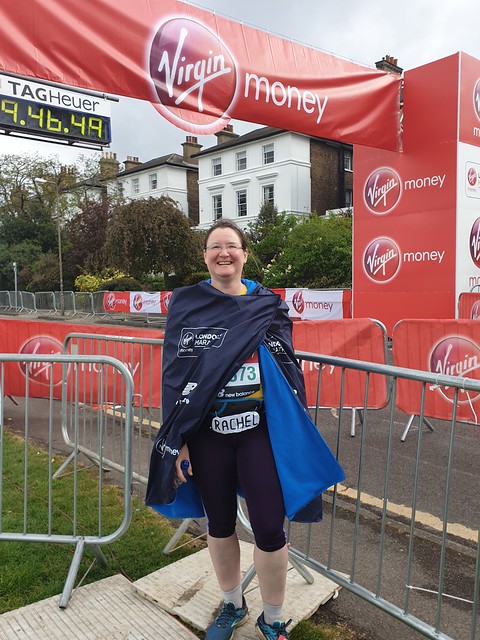 We were a few minutes later starting than scheduled, but it was not too bad. It was a very smalls tart, so little pushing or moving around to get some space. I had no ambitions for this race, in fact, I planned to be slower than last time! As my first London was such a blur, this one I intended to slow down, enjoy the sites and the crowd and take lots of photos. As I slowly went past the 6 hour pacer, I had a chat, he was running on his own, planning to pick up a few people on the way as they slowed down. I intended to do my best to stay in front of him, but not too hard!
The first few miles were pretty quiet, heading east, not too many runners and not too many spectators. We first of all joined up with the Blue start runners and then later the Red start, when it got really busy – and the crowds picked up. The main joining point tends to be full of runners waiting for friends and family so they can join up with them. The main joining point is also when you turn the corner and start to run west, heading into town for the first time. Slowly the crowds pick up, but there are still sections when there are just a few outside their houses. The first big spectator session is in Greenwich, especially around the Cutty Sark. Loud and raucous, they definitely give you a boost and speed you up!
The miles tick by, Deptford and Lewisham and Rotherhithe, all with their own local ambience. Sometimes there's a church congregration out, sometimes a set of pubgoers, dancing along to the music. I'd run consistently up to this point, now was the time to switch to run walk…generally a 5:2 run walk patter, with extra time for sites, slopes (not too many of those) and water stations.
Bermondsey Tube station comes into view and I know it can't be far until the turn across the river. You follow the main road, the crowds getting heavier and louder and you take the right turn and there it is, Tower Bridge. The first time I ran London, I shed a few tears..I'd made it this far, the famous crossing but I kept going. This time, I walked and just soaked up the atmosphere. Amazing!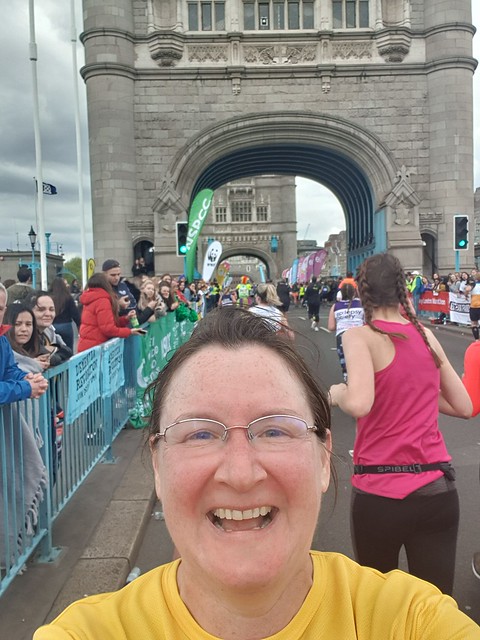 Over the Bridge and another right turn, away from town again, heading out to the Isle of Dogs and Caray Wharf. It's a dual carriage way here and you can see the runners, 8 miles ahead of you, heading back into town on the final stretch. I'd run pretty much
In Limehouse, another right turn and into narrow streets. The crowds press in, all good natured, but you need to take care. A big ushaped loop and back through into dockloads. This is where your gps system goes haywire, with all the buildings, the trace zigzagging to either side of the road, with all the tall buildings. Your final mileage will always read higher because of this stretch (mine read 26.83 at the end, with a lot of extra feet recorded in this section)
Finally you turn and head back, back to the highway. I saw no-one on it when running back. The sweeper bus had passed by and people had joined or given up. The pack up lorries and crew were there.. Sweeping up the rubbish, taking down the mile markers, cleaning the paint off the road. It's a huge job to set up and take down the event, but they always seem to manage it, although I'm guessing there will be bottles and gel packets still out there.
22 miles, 23 miles. A few people I know were marshalling along this section, so a bit of chat was had. The crowds were still strong even now, so high fives and jelly babies taken on board. I still (mainly had a grin on my face) but it was hurting now. The mind was still having fun, the body less so. Every other walk break I was chatting with family on whatsapp and sending the occasional photos, looking at social and just letting them know what was going on. Here's the Tower, not long now
The Blackfriars underpass – not as long or as steep as I remembered. But still as sticky from the Lucozade on the floor. Mile 24 and the embankment. The final stretch! So many people, I just couldn't help but grin and keep looking around. As I said to one of the water station helpers, it was absolutely amazing.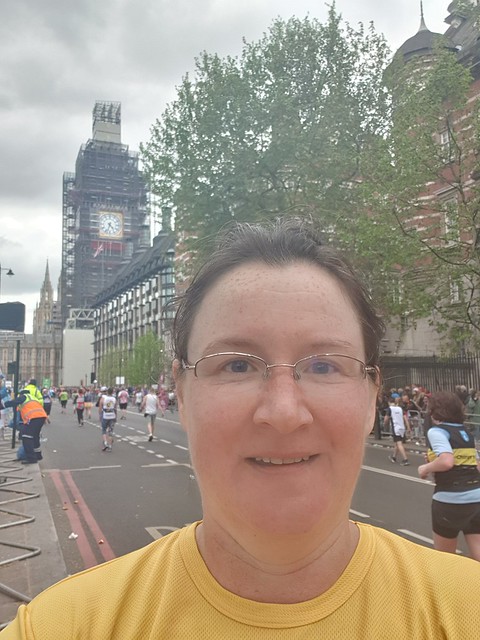 The embankment is packed, with lots of charity cheering stations. I spotted my favourite sign again – Go Rachel – not for me, but I'd seen it at least 4 times and it definitely applied. Round the river bend and there's Elizabeth Tower, in scaffolding but the clock face visible.
A turn next to Parliament and police rather than marshalls watching the crowd. A deep crowd but surprisingly quiet, the reason becoming obvious as I passed a guy in hand cuffs next to a bike. Had he made a wrong turn or just decided to do something stupid.
Westminster Square, a glance over to the Churchill. Less than a mile to go, lets keep pushing on, run walk still in action. 800m sign, 600m, I see people from my local park run with a big sign, they were waiting for me (excellent photo!). 400m and the last but one turn. There's the sign for 385yards…so that means 26miles is done! Buckingham Palace ticked off my photo list and then onto the red pavement of the mall to the finish line. Quieter than I expected here, the grandstands fairly empty and not replaced by the general crowds, but all eyes were on the finish. One final push and there I was. A marathon finisher again!
Medal handed out, new cape obtained, photos got, then the goody bag – why wasn't there chocolate? Even better, chocolate covered slated peanuts would have been heaven! No stopping to be done, had to keep moving. The brain had switched off and I felt every step, no running possible now, just foot in front of foot, heading out, time to get to the train station. Why are all these people in medals looking fresh and walking so fast (yep, fitter people who finished a while ago!)
Station, train, one final effort. A shower, washing off the salt crystals and finding the painful chafed bits. A glass of wine, some takeaway Indian and the day was done.