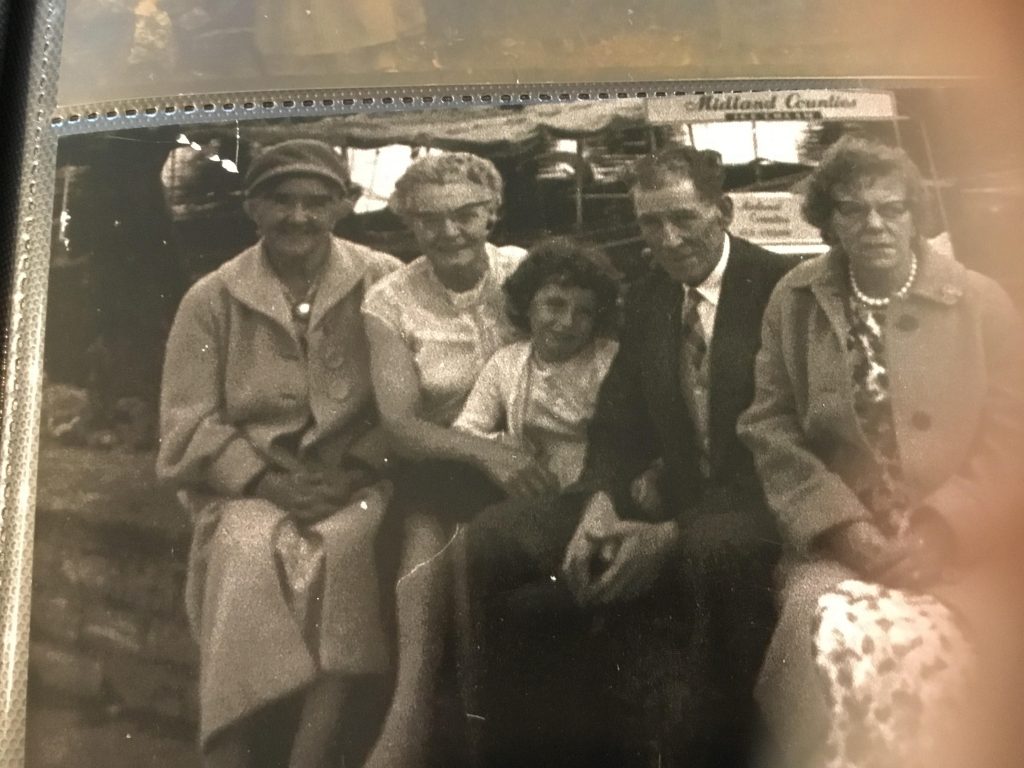 Florence Pashley was my great-grandmother and was one of the first relatives we started to gather information on way back in the 80's when all of this research was done by occasional trips to London to the records office (in Islington at that point) and trips to local records.  A slow build-up of information that often left more questions than answers, especially when we could not find the next link in the chain.
As I recall, it started off because granddad was never 100% sure of her surname, or rather the surnames of his maternal grandparents, (he was also not 100% sure of his birthday until he had to get a passport, celebrating it on one day then finding out his birth certificate was another date).  Her surname was known to be Pashley, but other names that were possible were Fletcher or Tolley. So what was happening here?  Our starting point was the birth certificate.
Florence Elizabeth Pashley was born 6 November 1899, to Kate Malia and Samuel Pashley, who was listed as a Curtain Maker. What surprised us was the location of the birth – Wolverhampton Workhouse. What was Kate doing there?  Where was Samuel? And what were they doing in Wolverhampton?
Kate and Samuel were married 18 months earlier, 21 May 1898, in Nottingham. Samuel was listed as as Lacemaker, born in Chesterfield, Derbyshire but now resident at 127 Waterway St, Nottingham. His father, Frank, was also a Lacemaker and came from a family in the same industry, all from the area around Chesterfield but starting to appear in Nottingham, which had a thriving international lace industry.
Kate was listed as resident at the same address, and her father named as John Malia, a cycle maker. And that is all we know, that is the only record I have managed to find that references John – or at least confirmed as him. I have no birth record for Kate, nor any mother's name. From later evidence, there was about 11 years age difference between them, although on the marriage certificate they were listed as Samuel being 28 (correct) and Kate being 21 (about 4 years older than we think she was). If they married for pregnancy reasons, there is no record of another birth around that time, Florence appears to be their first child.
The only route we had to explore was the Pashleys, and we started with the parents marriage certificate (Enoch Pashley married Elizabeth Clayworth,  20 Apr 1861, both were living in Brampton , DBY) and slowly, through message boards and personal genealogical sites connected that line to research that had been done elsewhere. This family is the one that has connected with my oldest known ancestor, the Del Rodes from Sowerby in the 14th century.
The next breakthrough into Florence's life came with the release of the 1901 census. Here she was -Florence Pashley, 1 year old, born Wolverhampton and living at 51 Park St, Wolverhampton. But not with Kate and Samuel, instead she is listed as an Adopted Child, living with Sarah Ann and Frederick Fletcher, along with Sarah's brother, Frederick Tolley. So that's where the other surnames come from! Sarah and Frederick were 23 and 26 respectively and had married at the end of 1898.
There was no formal need to register adoptions in England until 1927 ; many were private, found through networks, or even through newspaper ads. Charities were often involved. But in this case, there was a high probability it was Poor Law adoption; where Poor Law Guardians were appointed to take over the parental rights of children who had been deserted, or orphaned or judged unfit to look after them. The Guardians found families for them, often for long term fostering as the guardians were still responsible; this was also known as Boarding out.
There was no record of a Samuel and Kate Pashley in the 1901 census, so my initial guess was that they had died; Samuel first, leading to Kate being in the Workhouse, and then Kate. Entering into a workhouse was generally voluntary because there was no other choice. With no local family, perhaps that was the only place where Kate could get the care needed for childbirth? The Workhouse provided lodging and food, so may have been a better choice than trying to head back up to Nottingham for family. But as time went by, it appears the story was stranger than that.
Let's take a short side trip to look at the Workhouse
The first workhouse in Wolverhampton was built in 1700; this was closed with the building of the  Wolverhampton Union Workhouse in 1836-38, with space for 750 inmates. (which is about 3% of the population of Woverhampton at the time). Over the next few decades it grew to house around 1000 people, but even so, in 1885, the Guardians were sending people elsewhere as they ran out of room. Workhouses were seen as a solution to some of society's problems, but created even more. Conditions were bad, children were being exploited through sending them out to work and overcrowding common. Wolverhampton Workhouse was reviewed by The Lancet   as part of their investigation of Workshouse Infirmaries in 1867 (extract here ) This was just after new wards had been opened and the inspectors were quite pleased with the new areas, even if the rest of the place was not the same, with this description of the elderly men's ward:
Their life is practically one of perpetual confinement, with the sole prospect of being released by death. But, further than the mere confinement, their generally dirty aspect struck us with peculiar pain. We never saw criminal prisoners in such dirty clothes, or with such filthy persons. There are no baths, and, with one exception, the lavatories are insufficient. The fifty inmates of the ward already noticed wash in a kind of sink, and only two towels are given out daily for their use.
This was 30 years before Florence's birth, but overcrowding did not ease, leading to the development of a new Workhouse in 1900. This is now New Cross Hospital in Woverhampton. But Florence was born in the old, dirty, cramped workhouse and conditions must have been poor.
But, back to Florence. I have no ideas where she was in 1911. I've tried all sorts of combinations for the census search, but nothing can be found for Florence or her adopted family.  The next data point I have is her marriage to James Robinson, on Valentines Day 1925. One of the witnesses was an Annie Tolley, who appears to be the wife of her adopted brother; we knew the family stayed connected from granddad's recollections, but here it was in writing.
James was a Pipe-Moulder, from Brierley Hill. His parents were Charles Robinson and Jemima Hickman.  Charles was listed as a Labourer on the wedding certificate and on the 1911 census, but before then he'd been a brickmaker and by 1939 he was listed as a Steel Worker. Typical of many men in the area, his whole life working was in the heavy industries. Jemima was not a stranger to outside work, she was working as a Claymaker in 1891 at the age of 16 and even after marriage and two children she was listed as a Brick Finisher in the 1901 census.
Both Florence and James were listed as resident at 7 North St, Brierley Hill. Taking a look at Streetview, whatever house they lived in has been demolished, it's all newer houses or empty land. James has been born in 10 North St in 1900. He'd also end up dying there in 1958, this time at 1 North St. James had not stayed in North St all the time though; in 1911 his family were in Wordsley and in 1939 James and Florence were living in Church St – which was the road perpendicular to North St! They did not move far at all; I recall visiting Florence in the same road as a child in the 70s
Florence and James had 3 children and by the time James died, they had all married and started their own families. Florence did not marry again, living alone in Brierley Hill, until her death in 1983. At this point, it was never clear what had happened to her birth parents.
But I mentioned the story got stranger? it turns out, Samuel and Kate Pashley had not died but had in fact emigrated!
We haven't been able to track all the movements, but this is what we know so far
in 1890, Samuel H Pashley, a single Lacemaker aged 21, travelled from Liverpool to New York on the Etruria. How long he stayed there we don't know
But his father visited in 1892. A Frank Pashley, 50 years old, a lacemaker from Nottingham, travelled over from Liverpool to New York in the Etruria
At some point, he travelled back, as in May 1898, Samuel married Kate at the Registry Office in Nottingham
18 months later, in November 1899, Kate gave birth to Florence in Wolverhampton Workshop
Sometime in 1899, Samuel moved to the US, as recorded in his 1910 census results. Although I can't find a passenger record
In June 1900, Samuel Pashley was registered in the US Census, a boarder in Philadephia
On 24th Oct 1900, Kate Pashley travelled on her own from Liverpool to Philadelphia
A son, Frank Samuel Pashley, was born 20 Mar 1902 in Philadelphia
In 1904, Kate and Frank had travelled back to the UK, as there was a record of them entering the US on 24th Oct 1904, to return home having being visting Nottingham
So we know that Samuel had moved back the US in 1899, probably while Kate was pregnant ans was living in Philadelphia. Kate joined him on 1900, leaving Florence behind. This may have been in the workhouse or with the Fletchers. They had another child, Frank, and visited to the family in Nottingham before coming back the the US. Did Kate visit Florence? Or was the decision made to leave her there without a visit. We will never know.
As far as I can see, that's the last time they visited the UK, there are no other passenger records seen. We can track them in the US census, finding them in Newburgh, Orange County, NY in 1910 and they were still there in 1925. Sometime in the next 5 years, Kate died as Samuel was living with son Frank in the 1930 census, having moved to Beacon.
Frank married Elizabeth Greene sometime before 1925 and moved to Beacon, staying there until his death in 1969. They had one daughter, Jane, in 1923. From lowly beginnings, the family were moving up in the world, with Elizabeth and Jane both being left 1/3rd of a $10k estate, which could be seen as the equivalent of $60k each today. Jane married Henry Rogers in 1943 and died, in New Windsor, in 2003. Through Elizabeth, Jane was a member of the Daughters of the American Revolution and from the death notice was a fine, church-going member of society. I've always wondered if I could have met her and if she had known of the aunt left behind in England after having been born in a workhouse.