For around 30 years, I've been slowly building up what I know about my family history. Starting from occasional visits to the Family Record office in London with Mom, to look things up and order new records it slowly moved to online research as records were digitised and most of it can now be done from a computer. I say most, but sometimes you do need to get out and dig into local records, especially those of pre 1837, before national registration was implemented.
In this post, I'm going to explore what I know about a single ancestor, my great-great-grandfather John Harrison. Unlike the average celebrity on Who Do You Think You Are, my family are not from exciting places to show on TV, nor do they come from a line of aristocracy or major scandal. Most of them spent their lives in a small area, moving a few streets; they were mainly working class, working in cotton or down the mines. Nevertheless, there's almost always something of interest!
Without more ado, meet John Harrison.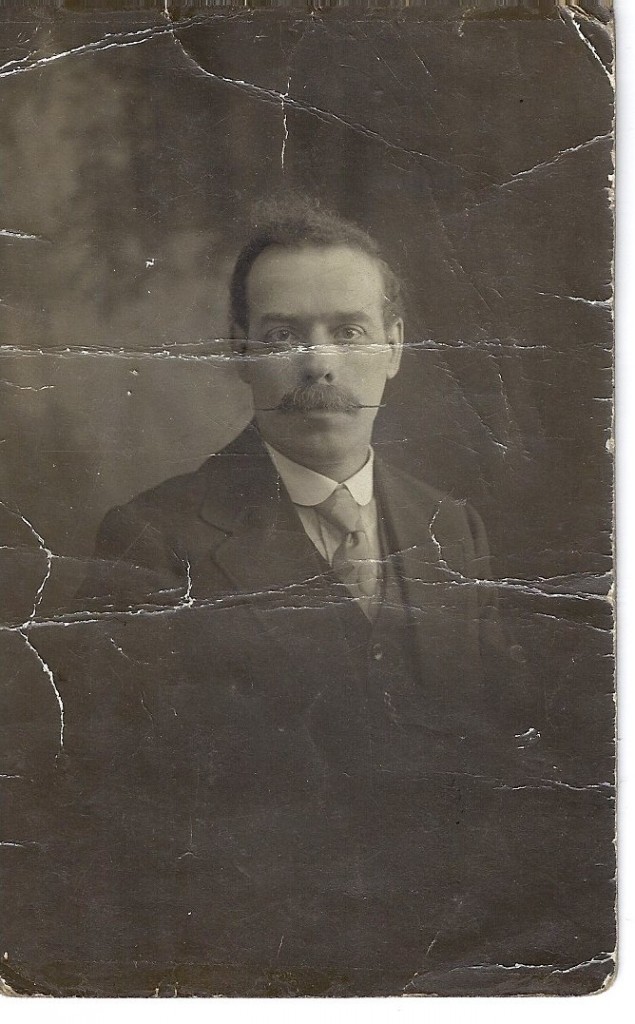 John was born 19 January 1869, in a place called Bramhall, near Stockport. His mother was Elizabeth Harrison, who'd also been born in Bramhall 20 years earlier. As for his father, I have no idea. There's no name on the birth certificate. We can speculate what had happened, but John was definitely born 'out of wedlock' as the saying goes. The registrar had no obligation to record the father's name at that time, even if Elizabeth had told him. It could be seen as surprising that she had registered the birth at all, as it was not a legal obligation until 1875, when it became mandatory for parents to register their children. Prior to that, it was the registrar's responsibility to find out abut births, marriages and deaths. Illegitimacy had also become even more stigmatised since the 1834 Poor Laws, which had removed any need for the father to take responsibility for their children (or rather, removes the need of the parish to do so, who would claim money from the father); by making the mother completely responsible for the child until they were 16, without providing any parish support, the government of the time thought they could reduce all the female sexual immorality that led to these children, because, of course, it was always completely the fault of the women.
This lack of father could be the reason for the family story of John being the son of the local lord, his mother supposedly being in service at the time.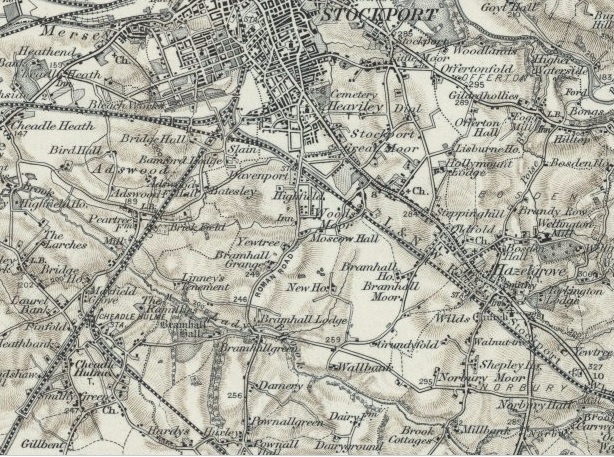 (screenshot from National Library Of Scotland Maps)
As you can see from the map, that could have been Bramall Hall, the home of the Davenports. William Davenport Davenport was resident at the time in question, although he did die in February 1869. But this is unlikely, given the profession of Elizabeth. In the 1861 census, she was listed as a Silk Hand Loom Weaver, (at the age of 13), in 1871, she was still working in the silk trade, as a Card Room Hand. Did she decide to try a different job and is there any truth in the family rumour? We'll never know.
In the 1871 census, John and Elizabeth were living with her father and stepmother in Bramhall Moor (you can see this labelled pretty clearly in the map), along with her younger sister Maria. Her father was John Harrison (b. 1824 in Cheadle), a silk weaver, and her mother was Mary Williamson, who'd died in 1849. Given the proximity of dates, there is a strong possibility that she had died as a result of Elizabeth's birth, a fate met at a rate of around 50 per 1000 births. John and Mary had married in 1844 and Elizabeth was their second child. John married again in 1850, a year into his widowhood, and had a further daughter.
In 1872, Elizabeth married Isaac Hallworth, who lived not too far away in Norbury Moor. His father was a Coal Miner, but the children went into the silk trade. Isaac himself was a Hatter at the time of the marriage. Hat making and silk making had been an important industry in the area since the 16th century, as demonstrated by the presence of Hat Works, the UK's only museum completely devoted to hats, hat making (and the associated silk industry. Elizabeth and Isaac had at least 6 children, almost all of whom went into the hat industry too. They stayed in the area for the next 40 or so years. Elizabeth died in December 1920, at the age of 72, in Watford Hospital. At the time, she was living next door to her son, Allen. Allen had moved to Watford around 1910, to work with British Rail. We can assume that Elizabeth had moved down sometime after Isaac's death in 1914. She was buried back up near to where she had been born and lived for most of her life, at St Thomas's in Norbury.
So, back to John. By 1881, the family had moved to London Rd, the main road south in the area. There were 3 children by then, John, Allen and Alice. By 1891, they had moved again, to Arden Grove. John was still living at home, working as a Felt Hatter. the family had grown by another 4 children, all still at schools. Arden Grove was closer into town, near to St Thomas's Church off Higher Hillgate, but no longer exists on maps.
In Sept 1892, John married Hannah Harwood. Born in Bosden, the daughter of Robert Harwood, a cotton dealer, and Alice Larkin, who was originally from Ireland and one of the very few of my ancestors who weren't English. Hannah was the youngest of their 6 children, the 4th daughter. At the time of the marriage, she was living with her family at 19 London Road; Robert Harwood was still living there at his death in 1912.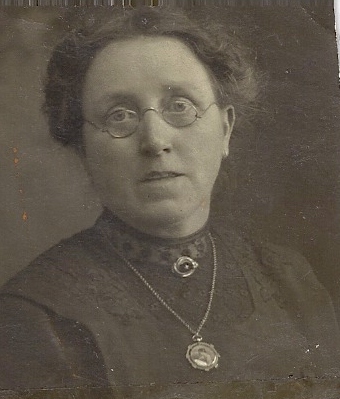 (Hannah in later years)
At some point, they moved into 33 Crosby St, a small, terraced house not too far away. It looks like it's a typical 2 up 2 down house; you could assume that the bathroom was in the back yard. They were there in the 1901 census and it was listed as the address of the hatter John Harrison in the 1902 and 1907 trade directories.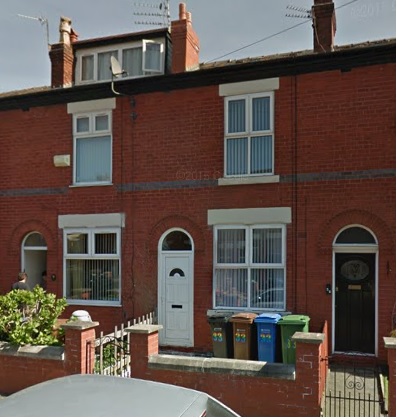 Crosby St from Google Streetmap. From the outside, it won't have changed that much, probably just new doors and windows. John would definitely not had the 4 wheelie bins though.
From 1893 through to 1909, they had 9 children. I only know about 8 so far, but the 1911 census identified that the 9th had died at some point. From what I have discovered so far, all of the children lived and died in the same area around Hazel Grove, Stockport, except for Fred who at some point moved to Blackpool, or at least died there.
Leonard, b 1893. became a Hairdresser
Sydney b. 1897,
John, b. 1899. My great, great grandfather
Lizzie b. 1903
Lily b. 1905
Fred Harwood b. 1906
William b. 1908
Norah, b. 1909
In the 1911 census, the whole family were loving at 97 London Rd. They've moved slightly south, closer to Bramhall again. The house was also the business address of Leonard Harrison, hairdresser, as listed in the 1910 Kelly's Directory. As far as I know, John and Hannah then lived there for the rest of their life. They were listed there in the 1939 Register and it was their home at the time of their deaths. That's over 40 years in the same house. Again, it looks like a typical 2 up and 2 down, which makes you wonder how they lived there with 8 children! 97 is the right hand half of the Bridal Shop in the picture below.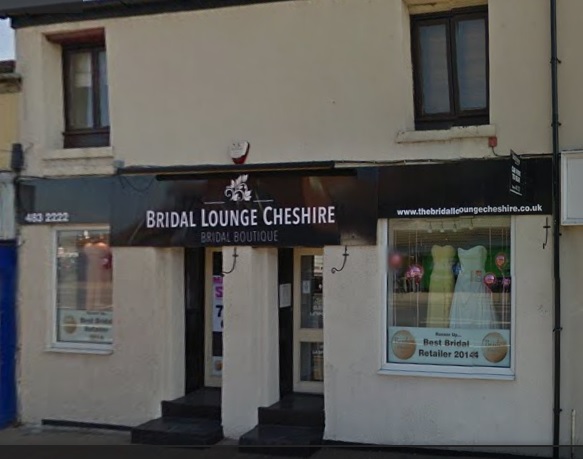 Screen cap from Google Street View.
And here's how it looked in 1945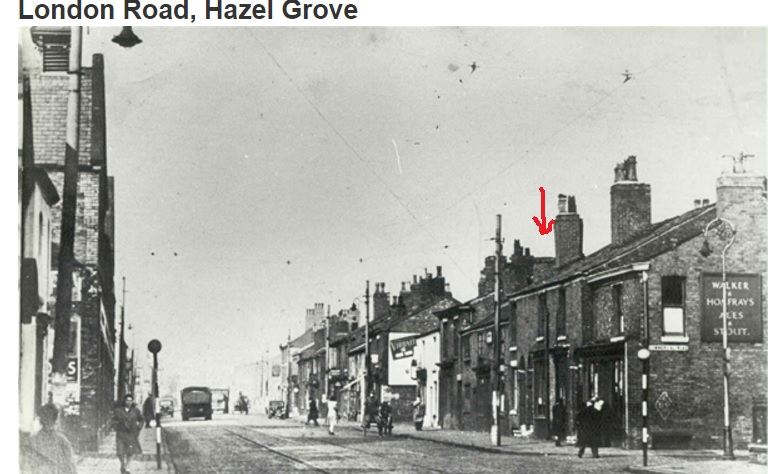 From Stockport Council records
The next reference I have for John is in the 1939 Register, where he is listed as a retired hatter foreman; he's living with Hannah, and with 2 daughters, Lizzy and Lily, who are both 'Tissue Paper Cap Makers', I think another aspect of the hatter trade.
Finally, we get to his death, in the local Shaw Heath hospital, which focused on the care of the elderly. On the 29 Aug 1953, he died to the age of 84. The informant was Leonard, his son, who lived not too far away in Gordon Avenue. He'd been born during the reign of Victoria and died at the start of Elizabeth's reign, his 6th monarch. He'd lived through 23 different tenancies of Prime Minister (although only 14 different people). He'd seen the invention of flight, radio and the television, although the odds of him actually owning a telly are low, or indeed, having been on an aeroplane. He'd seen 2 World Wars; at least 1 son fought in WW1 (and survived). Had he ever been outside of the few square miles from where he was born? Is it reasonable to assume that he'd traveled to Watford to see his mother in the time she was there?
Hannah survived for only another year, dying at home, still at 97 London Rd, early the following year. According to the obituary, it was still Leonard's hairdressing shop after 40 years. She was buried in Norbury church.