At a slight loose end around Covent Garden, I decided to make a quick lunch stop at the Hawksmoor. Definitely one of my favourite steak restaurants, I don't get there nearly enough.
You can go all out and spend a lot of money on steak, but this time I just decided to try out their Express Lunch. 3 Choices of starters and deserts, 5 mains to choose from, it's a pretty reasonable £24 for 2 courses, £27 for 3. I ended up going with Potted Mackerel followed by the Rib-eye steak.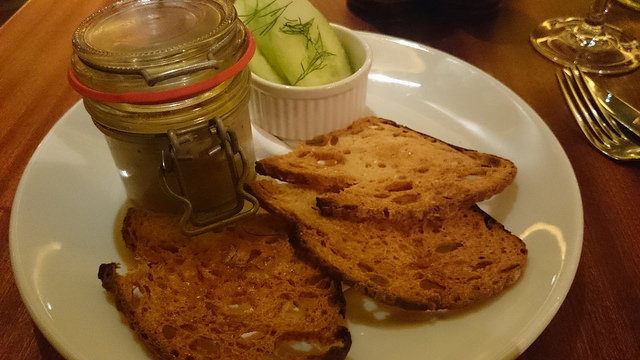 The Mackerel was well presented, served in a little glass pot, but was only accompanied by 3 slices of crispbread, which I found was one slice too few, even thought I'd spread the fish lavishly. Unfortunately, the crispbread was too crisp! It shattered into small bits when you tried to spread on the fish mixture. The fish itself was OK, but nothing special. An adequate starter only.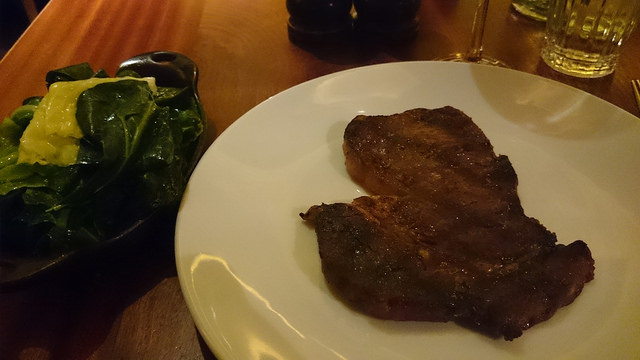 The steak was 250g, just the right size for lunch and cooked medium as requested. A lovely piece of meat, served just sitting on the plate. I'd chosen buttered greens to go with it, and they were actually dark green instead of white cabbage I'd been provided at a previous restaurant so very happy with that. If I had to choose a last meal, steak and greens would be high on my list! I drank some very nice Moulin de Gassac, Syrah/Carignan to go with the steak.
Hawksmoor also do brilliant cocktails and deserts, so well worth a visit at any time