Disclaimer: I still work for this company (but only for the next 2 weeks…) so this is little bit of an ad for a site, but thought it would be interesting to share some of the process behind the scenes and the challenges of digital marketing in an alcohol company.
Over at guinnessblog.co.uk you'll find a slightly different departure for the company from its usual consumer marketing websites. The team responsible for marketing Guinness in Great Britain have started a blog to explore and explain all the work that goes on behind the scenes in marketing the beer. It's been a long journey from idea to reality for this site; long and varied conversations with the legal teams to ensure that a site would comply with our Marketing Code and allow the brand team to have a conversation with their consumers that would follow the principles in the document.
So you'll find a few things different on this site. The first, and most obvious, is a gateway page that asks you for your age and country. This is done on all the company sites (you'll even find it on the corporate site to access examples of advertising) to ensure visitors are old enough to view alcohol advertising (and that they come from a country where it is allowed). You can save a cookie to ensure you don't get it the next time you visit.
The moderation will be quite controlled as well. It'll only be during working hours and won't be immediate – the brand team are doing this themselves, not the agency, and they have lots more marketing to do as well. There's also a fair few guidelines about what is acceptable – the comments will still have to comply with the marketing code. But the team have committed to do their best to get all comments submitted onto the blog and answer them.
It's a new step for the team – I hope it works for them.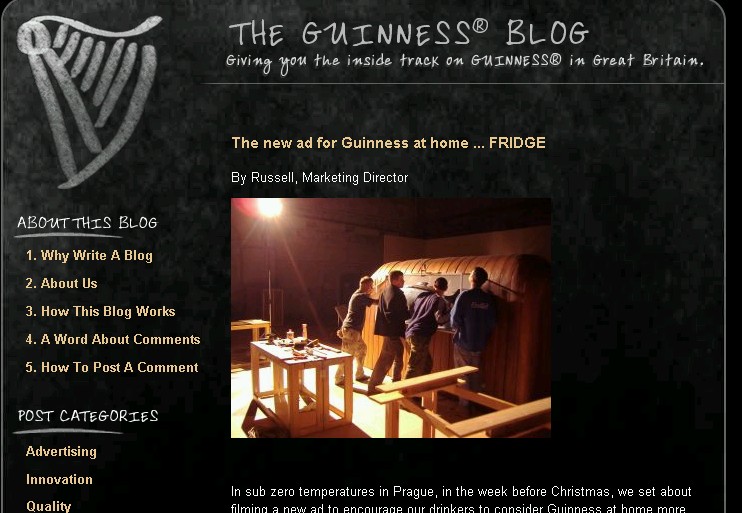 Tags: Guinness